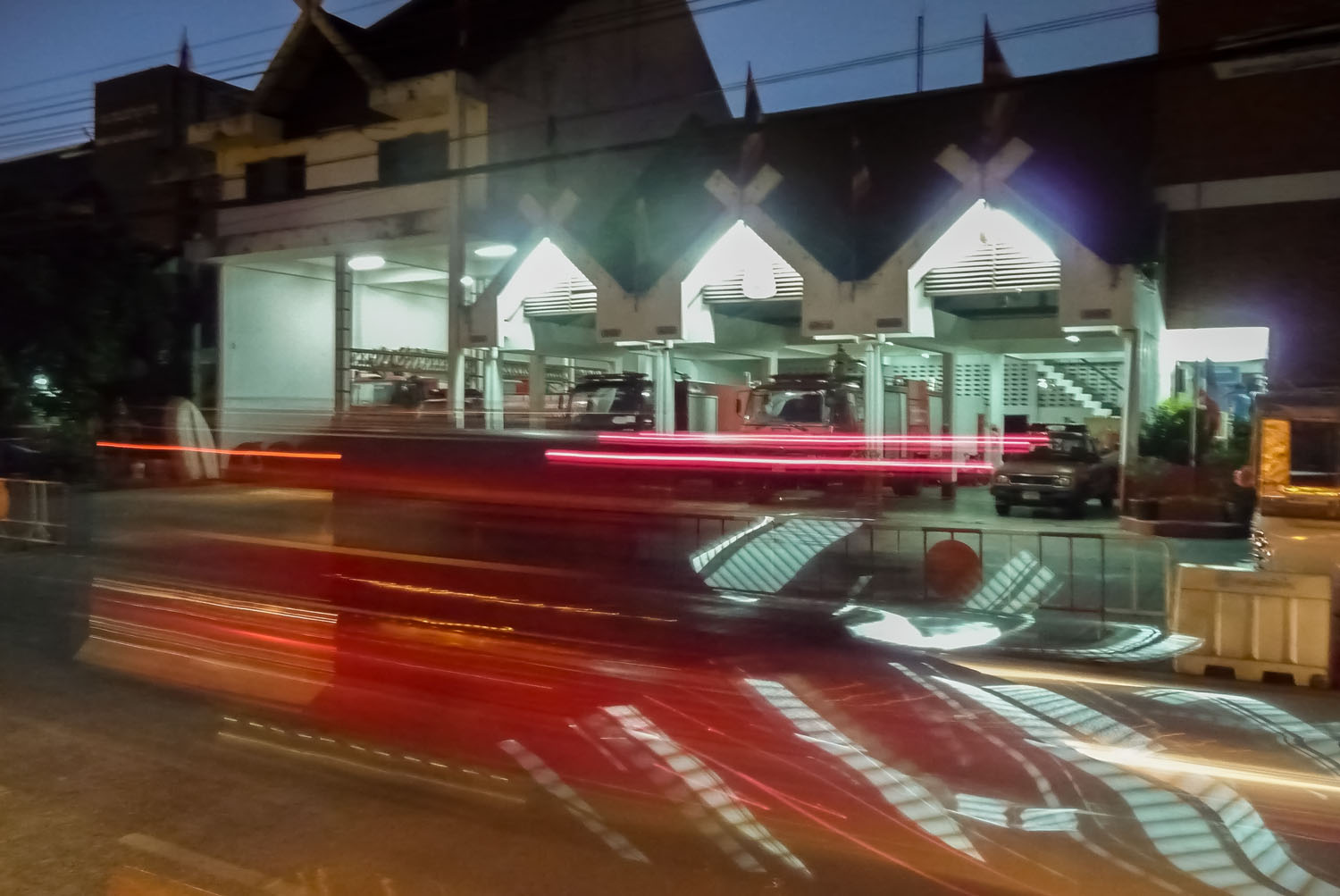 The Red Songthaew of Chiang Mai
Converted from a pick-up truck and usually travelling a fixed route for a set fare the red songthaew (pronounced something like; 'soorng taaow') takes its name from the two bench seats fixed along either side of the back of the vehicle. A roof is fitted over the rear and some will have a roof high enough to accommodate standing passengers within the vehicle. More typically though, standing passengers will occupy a platform attached to the back of the Songthaew.
The Red Songthaew is also available in other colours
Similar passenger vehicles (but not red ones) are found all over Thailand and even further beyond its borders, particularly in Laos. Larger songthaews can also be seen on longer runs travelling between towns and villages, these larger ones may be converted from larger trucks and can accommodate around forty passengers and their luggage. More often than not this includes pigs, chickens, a year's supply of kanom jeen and all of their neighbour's kitchen sinks.
Photographing Chiang Mai
Well over a century ago, around 1900, this fortified town on the Ping River would have been surrounded by paddy fields. Nowadays you'll need to go well beyond its red brick boundaries to witness such a sight. Nevertheless, the restored remains of the fort still exist. The four corner bastions: Jaeng Sri Phum (NE), Jaeng Katam (SE), Jaeng Ku Ruang (SW) and Jaeng Hua Rin (NW) connect and encase 1600 square metres of central Chiang Mai.
The bastions may appear to be original, but they have all been restored over the centuries, some of them several times.  Besides the four corner bastions, there's also has a secret fifth one: the Jaeng Thiphanet on the southwestern corner of Kamphaeng Din.
Chiang Mai is a rewarding city for the keen photographer and tackling it on foot is certainly do-able. It's laid back ambience and relatively cooler temperatures do lend themselves to a bit of a mooch. However, it's still a good idea to navigate its compact centre in the cooler early morning/evening, particularly as the light will be more agreeable photo-wise.
Thirty-four Buddhist Wats can be found within its red fortified walls and in total there are over three hundred in Chiang Mai. Each can be dated back to between the 13th and 18th centuries. Furthermore, all are built in the 'Lanna' style which is characterised by lavishly carved wooden panels and golden decorations.
Once you're all templed-out, squeeze in one more; Wat Prathat Doi Suthep is a worthwhile excursion. This impressive temple complex has the added bonus of splendid views of the Chiang Mai valley.
All in all, there's enough here to keep a happy snapper busier than a local with a serious case of the twitches trying to eat a fried egg with chopsticks.
Boring factual stuff about the Red Songthaew and Chiang Mai
To hail a red songthaew in Chiang Mai stretch out your hand with your palm down. When it stops, tell the driver where you want to go. If it's on his route he'll nod, that's your cue to board at the back. If it's not on his route he'll shake his head and drive on. After a few attempts at this, you'll probably end up walking to your destination and sweating like a pig on heat.
Chiang Mai was once the capital city of the ancient Lanna Kingdom.
The monastery within Wat Prathat complex was built by King Kue-Na in the 14th century; its spired pagoda is said to contain relics of the Buddha.
Have a wemooch elsewhere...
Inspired?
Thinking of heading up into Chiang Mai and riding a red songthaew?
You'll need a few things to come together for it all to work out. There's some useful stuff to be clicked and pressed below.