Laos
ສາທາລະນະລັດ ປະຊາທິປະໄຕ ປະຊາຊົນລາວ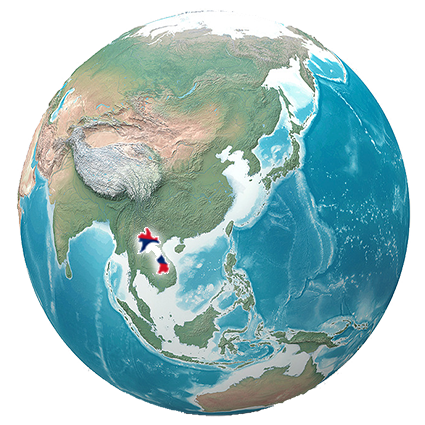 Laos
So laid back it practically has its feet in the air, Laos lies in the heart of south-east Asia. Officially titled the Lao People's Democratic Republic, it's people are known as Laotians and they inhabit one of East Asia's poorest nations.
A French colony until 1953, the power struggle which ensued between royalists and the communist group Pathet Lao saw the country caught up in the Vietnam War. Subsequently, in 1975 communist forces overthrew the monarchy heralding years of isolation.
Upon the fall of the Soviet Union in the 1990s, Laos began opening up to the world. However, Laos is still one of the world's few remaining communist states. Despite economic reforms, the country remains a poor one and is heavily dependent on foreign aid.
A Developing Laos
Most Laotians live in rural areas, with around 80% working in agriculture, predominantly growing rice. The powers that be have huge hydropower ambitions. They make no secret of a desire to become the "battery" of Southeast Asia.
2025 is the projected year that hydropower will become the country's biggest source of revenue. In response to this, neighbours Vietnam, Thailand and Cambodia have all raised concerns. The environmental impact of its dam-building projects along the Mekong River is a worry.
The government exerts tight control over the media, owning all newspapers and broadcast media. In 2014, strict, new internet controls came into force, making online criticism of its policies or the ruling party a criminal offence. Such legislation also demands that web users register with their real names when setting up social media accounts.
Photographing Laos
As with most of South East Asia, Laos stumps up an array of stunning scenery. In the north, breathtaking karst landscapes await around Vang Vieng and the cultural delight of UNESCO protected Luang Prabang are not to be missed.
In the south of Laos, the Bolaven Plateau and the ancient ruins of the Champasak civilisation are wonders in their own right. Further south still, in the Mekong River, lies the laid back 4000 Islands (Si Phan Don)
Bridging the gap are countless crumbling, yet charming ex-colonial towns. Namely, the Mekong River settlements of Thakhek and Savannakhet.
In conclusion, Laos has enough to keep that trigger finger busier than a Jehova's Witness at a Doors tribute concert.
Completely Useless Facts about Laos
The oldest modern human fossil was found in a cave in northern Laos. It's believed to be 46,000 years old.
Laotians are the worlds highest consumers of sticky rice. They refer to themselves as 'luk khao niaow' meaning, "children of sticky rice"
Found in the 4000 Islands with a width of up to 14km (8.7 miles) during the monsoon season. Laos is home to the widest waterfall in the world.
Population: 7 million
Capital City: Vientiane
Land Area: 236,800 sq km. (91,400 sq miles)
Major Languages: Lao, French
Major Religion: Buddhism
Currency: Kip
Have a wemooch elsewhere...
Inspired?
Thinking about a mooch around Laos?
You'll need a few things to come together for it all to work out. There's some useful stuff to be clicked and pressed below.