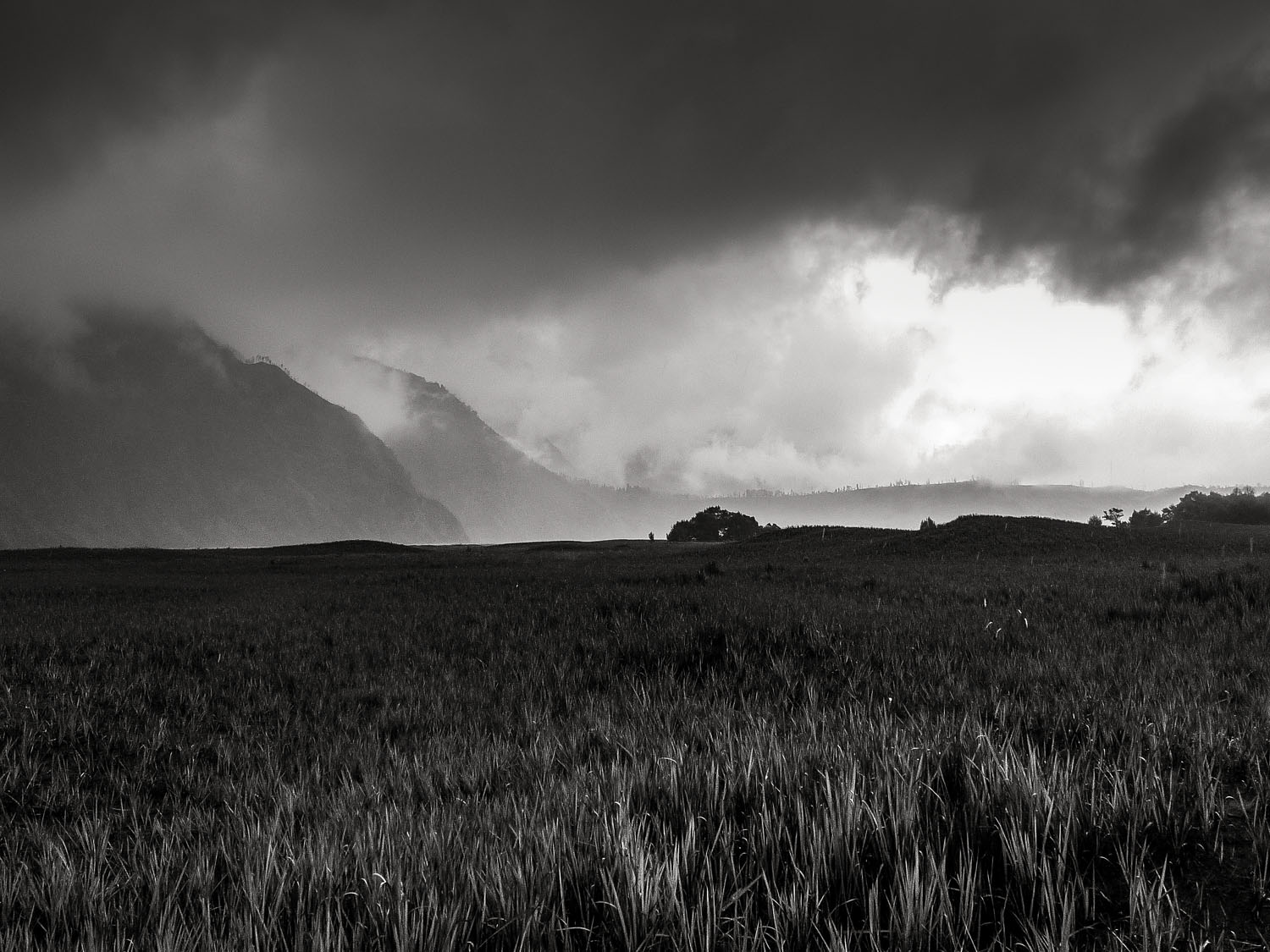 Mount Bromo
Part of the Pacific Ring of Fire, Mount Bromo is one of over a hundred volcanoes in Indonesia. Known locally as Gunung Bromo it is the active cone inside the giant Tengger caldera volcanic complex. Surrounded by the Laut Pasir, (sea of sand) and sitting alongside Mount Semeru in Eastern Java, Bromo is one of the most active volcanoes in the world.
Mount Bromo Tengger Semeru National Park is one of Indonesia's most scenic regions. With the Semeru volcano in the distance, the panoramic view over the caldera offers the adventurous a mesmeric, fairytale landscape.
Bromo holds special significance to the Tengger people. Legend has it that it is here where their brave prince sacrificed his life for his family. To appease the Gods, the Tengger throw food and money into the crater of the volcano during the annual Kasada (or Kasodo) festival.
Photographing Mount Bromo
Herding groups of tourists to the viewing platform in time for the sunrise seems to be the norm at Bromo. In peak season it's a popular spot where a large gathering is commonplace. Unfortunately, it's a 'camera in the air to avoid the heads' type scenario. It is possible, however, to find a quiet spot away from the hordes to get the shot you're after.
Away from the early morning madness, there's 800 sq. km of a national park to explore. Within the Tengger Caldera volcanic complex, well-marked tracks cross the sea of sand leading to the foot of Bromo. From there it takes around 30 minutes to climb up to the rim of the crater.
You could easily spend an extended period in the region. Staying in the village of Cemoro Lawang would be the best option. It's possible to rent a jeep or even a horse to explore the magnificent surroundings.
There's enough here to keep your trigger finger busier than a one-armed paper hanger with winnits.
Completely Useless Facts about Mount Bromo
The name 'Bromo' derives from the Javanese pronunciation of Brahma, the Hindu creator god.
Bromo tops the list as Indonesia's number 1 tourist destination.
Four mountains lie within the Tengger caldera complex: Mount Bromo (2,392 metres above sea level), Mount Batok (2,440 metres), Mount Widodaren (2,614 metres), Mount Watangan (2,601 metres) and Mount Kursi (2,581 metres).
Have a wemooch elsewhere...
Inspired?
Fancy a wee mooch around the magical landscape of Bromo?
You'll need a few things to come together for it all to work out. There's some useful stuff to be clicked and pressed below.