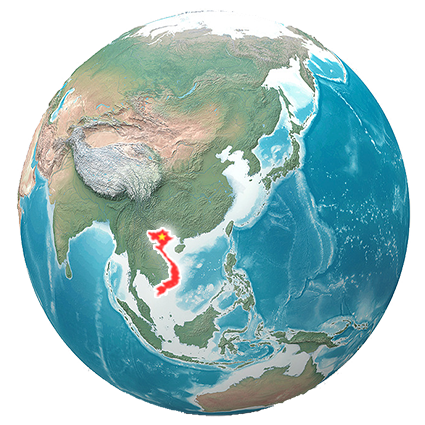 Vietnam
Arguably the most affordable destination in Southeast Asia, Vietnam is currently developing at breakneck speed and is one of Asia's fastest-growing economies. It has its sights set on becoming a 'developed nation' by 2020.
However, at the time of writing (2019) Vietnam still has a 'raw', energetic and wonderfully chaotic appeal. This one-party Communist state has much to offer the adventurous spirit.
The mountain ranges in the far north are home to a patchwork of ethnic minorities. Whilst at the opposite end of the country, the Mekong River delta is home to a vast maze of rivers, swamps and islands.
Bridging the two are a seemingly endless supply of white sandy beaches and remnants of ancient civilisations. This is a land that will entice you to stick around much longer than you planned.
Good quality accommodation can be had at very reasonable rates making Vietnam an appealing destination for the medium to long term traveller. Certainly more so than its near neighbours.
The Roots of Vietnam
Historically, China ruled Vietnam (previously known as Nam Viet) as a vassal state from 111 BCE. According to mythology, however, the first ruler of Vietnam was Hung Vuong, founding the nation in 2879 BCE.
Around the 15th century, an era of nationalistic expansion began. Consequently, the Khmer people would be forced out of their southern homeland. A century later, the Portuguese would be the first Europeans to enter the region.
In more recent times, the French established influence early in the 19th century. At that time Vietnam was divided into three regions. Cochin-China in the south, the central Annam region, and Tonkin in the north. France would go on to conquer all three regions within eighty years.
Vietnamese Unification
Subsequently, the French would unify Vietnam for the very first time in 1887. A single governor-generalship was created, followed by the first physical links between north and south via rail and road systems. At the beginning of World War II, however, there were already internal differences among the three regions.
The Japanese obtained military bases in Vietnam in 1940, and a French administration remained until 1945. Veteran Communist leader Ho Chi Minh organised an independence movement known as the Vietminh. This operation sought to exploit the confusion surrounding France's weakened influence in the region.
In the aftermath of the war, Ho Chi Minh's followers seized Hanoi. They declared a short-lived republic, ending in 1946 with the arrival of French forces.
Subsequently, Paris would propose a unified government within the French Union under the former Annamite emperor, Bao Dai. Cochin-China and Annam accepted the proposal, and in 1949 Bao Dai was declared Emperor of all Vietnam. Ho and the Vietminh, however, withheld support.
Conveniently, the revolution in China gave the Vietminh the outside help needed for a war of resistance. Armed largely by the USA, (worried about cold war Communist expansion) they were to resist both French and Vietnamese troops.
On the 5th of May 1954, a bitter defeat at Dien Bien Phu in north-west Vietnam broke the French military campaign. Consequently, Vietnam became divided once more.
In the new south, Ngo Dinh Diem, prime minister under Bao Dai, deposed the monarch in 1955. The self-elected president, Diem used strong backing from the USA to create an authoritarian regime that suppressed all opposition. He could not, however, eradicate the Northern-supplied Communist Viet Cong. Subsequently, skirmishes grew into a full-scale war, with escalating U.S. involvement.
The Vietnam War
Learn More
On the 1st of November 1963, a military coup (inspired by the USA in the view of many) ousted the then Prime Minister Ngo Dinh Diem. A kaleidoscope of military governments followed in the aftermath.
The worst fighting of the war occurred in early 1968 during the Vietnamese New Year, known as Tet. Although the so-called 'Tet Offensive' ended in a military defeat for the North, its psychological impact changed the course of the war.
In the Summer of 1970, the U.S. would conduct a bombing campaign to destroy Viet Cong bases in neighbouring Cambodia. This invasion would mark the end of major U.S. participation in the fighting.
Consequently, most U.S. ground troops were withdrawn from combat in mid-1971 as the U.S. was conducting heavy bombing raids on the Ho Chi Minh Trail. (a crucial North Vietnamese supply line)
By 1972, secret peace negotiations led by Secretary of State Henry A. Kissinger took place, and a peace settlement was signed in Paris on the 27th of January, 1973.
On the 9th of April 1975, Hanoi's troops marched within 40 miles of Saigon (capital of the South). Subsequently, Southern Vietnam's President Thieu resigned on the 21st of April and fled the city. New president General Duong Van Minh then surrendered Saigon on the 30th of April. Thus bringing a conclusion to a war that claimed the lives of 1.3 million Vietnamese and 58,000 Americans.
The Reunification of Vietnam
The Vietnam war produced heavy casualties on both sides. Atrocities against civilians and the indiscriminate destruction and contamination of much of the landscape left the Vietnamese with a huge economic problem.
For obvious reasons, Vietnam struggled to find its feet after unification. Trying, at first to organise the agricultural economy along strict state-run lines. However, elements of market forces and private enterprise were to be introduced in the late 1980s. Subsequently in the year 2000, a stock exchange opened.
In November 2000, then U.S. President Bill Clinton paid a historical visit to the country intending to normalise relations with the former enemy. Consequently, foreign investment has grown and the US is now Vietnam's leading trade partner.
After 12 years of negotiations, the country joined the World Trade Organization in 2007.
Economic freedom?
Despite the pursuance of economic reform, the ruling Communist Party shows scant eagerness to relinquish its monopoly on political power. With a broad disparity in wealth between Vietnams rural and urban class, some Communist Party leaders worry that too much economic liberalisation will weaken their power base.
These ruling powers of Vietnam actively suppress religious freedom and political resistance. Rights groups have singled out Hanoi's treatment of ethnic minority hill tribe people, collectively known as Montagnards.
A 2011 report by the human rights advocacy group Amnesty International states that "more than a dozen activists were convicted in faulty trials simply because they had peacefully voiced criticism of government policies"
In 2013, yet another wave of subversion trials began.
Photographing Vietnam
In a country bursting with diversity, a lifetime can be spent attempting to capture this charismatic 'strip' of land.
The mountainous far north is home to more than 50 different 'Montagnards' (highland people) including the Hmong, Tay and the Red Dao, all residing in vibrant village settlements.
South of here the surreal karst limestone outcrops of Halong Bay including the islands of Cat Ba are a photographer's wet dream. Further south but inland a bit is similar topography at Ninh Binh.
Keep heading south and discover the coastal desert region of Mui Ne and its colossal dunes.
Down down, deeper and down you'll be on the Mekong delta, where life unfolds afloat. This region crowns itself with a jewel that is Phu Quoc Island.
All of the above is merely a drop in a big fat puddle of the trigger fingering possibilities of Vietnam. There's enough here to keep you busier than a one-handed barista with a queue full of hipsters demanding wifi so they can research beard sculpting techniques.
Completely Useless Facts about Vietnam
An estimated 40 million motorbikes ply the roads of Vietnam every day. That's a bike for every other person.
The Vietnamese people are a mish-mash of descendants of nomadic Mongols from China and migrants from Indonesia
Ruou ran is a Vietnamese speciality; Rice wine containing a pickled snake which is believed to cure any sickness
The Vietnamese keep potbelly pigs as pets
Population: 95.5 million
Capital City: Hanoi
Land Area: 329,247 sq km (127,123 sq miles)
Major language: Vietnamese
Major religion: Buddhism
Currency: Dong
Have a wemooch elsewhere...
Inspired?
Thinking about a wee mooch around Vietnam?
You'll need a few things to come together for it all to work out. There's some useful stuff to be clicked and pressed below.