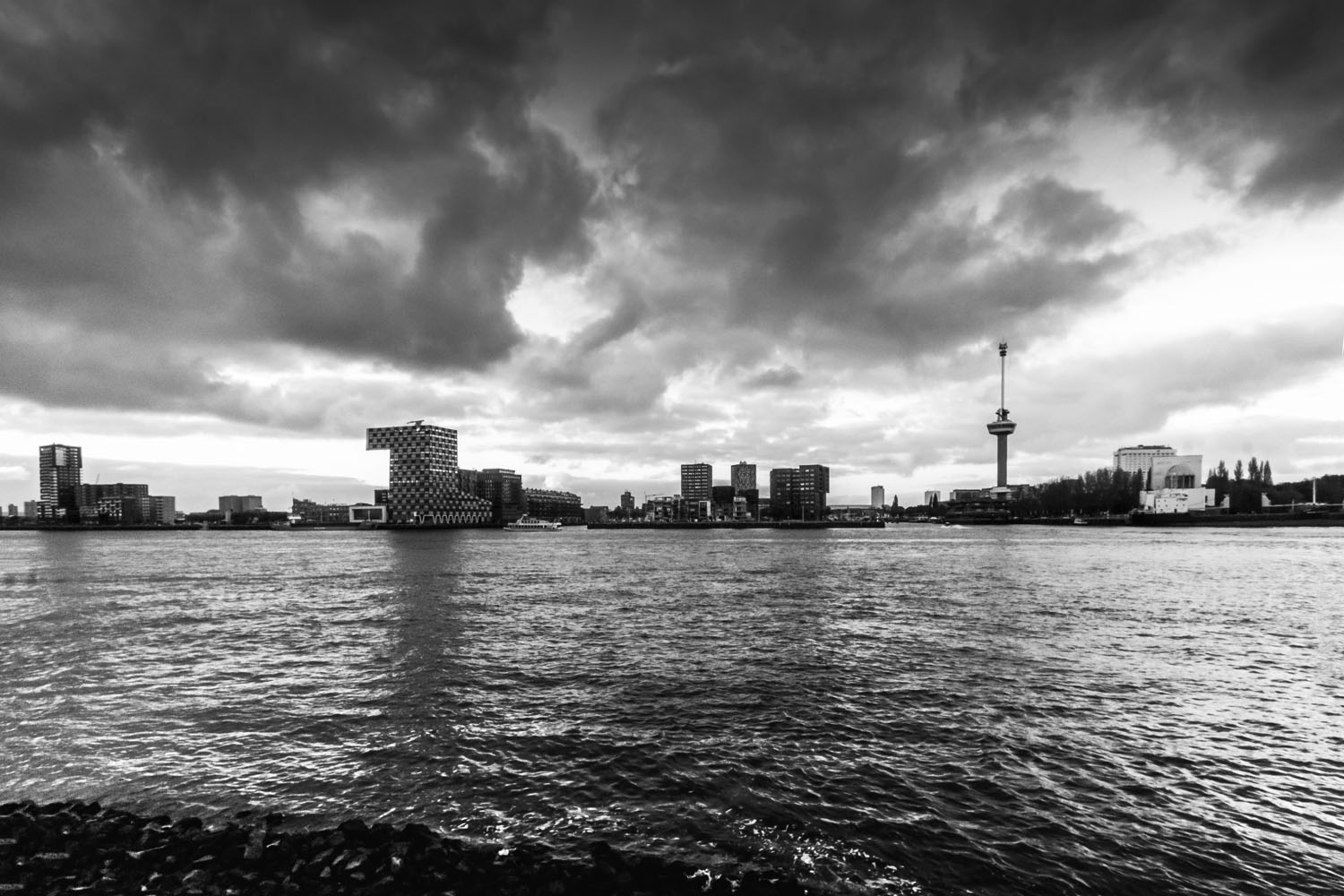 Rotterdam
A city of many faces: a tough port, trendy nightlife, sophisticated shopping, and a hip art scene. Rotterdam is the second-largest metropolis in the Netherlands with stories going back as far as 1270. Due to an unfortunate past and in stark contrast to other more traditional Dutch urban centres the city reveals a contemporary getup.
Home to Europes largest port and a plethora of cutting-edge architecture, it is known for its maritime heritage and Erasmus University. Rotterdam is a lively and diverse place with a variety of impressive museums and attractions. Local initiatives pop up almost daily, contributing top-quality restaurants, art galleries and an increasingly vibrant nightlife.
It comes as no surprise therefore, that Rotterdam is now confidently stepping out of the shadow of its bigger, more fashionable sibling, Amsterdam.
The Rotterdam Blitz
On the 14th of May 1940, the Luftwaffe decimated almost the entire historic city centre resulting in almost 900 deaths. Consequently, Rotterdam is still frequently referred to as the 'city without a heart' (stad zonder hart) and that tragic events still shape the city today. With ever-changing skyline, it is now characterised by futuristic and innovative architecture, yet still retains its authentic grittiness.
Photographing Rotterdam
It's a walkable city and the outskirts are well connected with good transport links and underground pedestrian tunnels.
If you arrive by train, you're in luck. Rotterdam central station is one of the city's most iconic locations. Opened in 2014 and locally referred to as the 'Kapsalon' (due to its resemblance of an aluminium kebab tray) the station is quite a sight.
East of here is the weird and wonderful Markthal. And a stone's throw from the Markthal, in the atmospheric Old Harbour (Oude Haven) area, you'll discover some curiously cube-shaped homes.
The striking juxtaposition of Rotterdams contemporary architecture contrasting with the historical Delfshaven district is also something to focus on.
Grab your gear, peel your eyes, open your mind and head out for a wander. There's enough in this city to keep your trigger finger busier than a three peckered rabbit.
After all that shutter action, you might fancy winding down by indulging in a bit of 'Dutch herb'. From a visitors perspective, the 'coffee shops' here may not be as visible compared to Amsterdam but the city does host more than a few. Generally speaking, you'll need ID to enter the premises and I've not found one where you'd want to stick around for a coffee. Takeaway only for this picture taker.
Boring factual stuff about Rotterdam
'Lijnbaan' was the first pedestrian shopping precinct in Europe when it opened here in 1953
The artwork adorning the inside of the Markthal is called 'The Horn of Plenty'. Nicknamed the 'Sistine Chapel of Rotterdam', it was created by artists Arno Coenen and Iris Roskam. At 11000 square metres, the piece is the largest in the world
With a large number of public parks and gardens, Rotterdam is the greenest city in the Netherlands
Jimi Hendrix only played one time in the Netherlands, at the Hippy Happy Beurs in Rotterdam in 1967
Have a wemooch elsewhere...
Inspired?
Fancy a wee mooch around Rotterdam?
You'll need a few things to come together for it all to work out. There's some useful stuff to be clicked and pressed below.