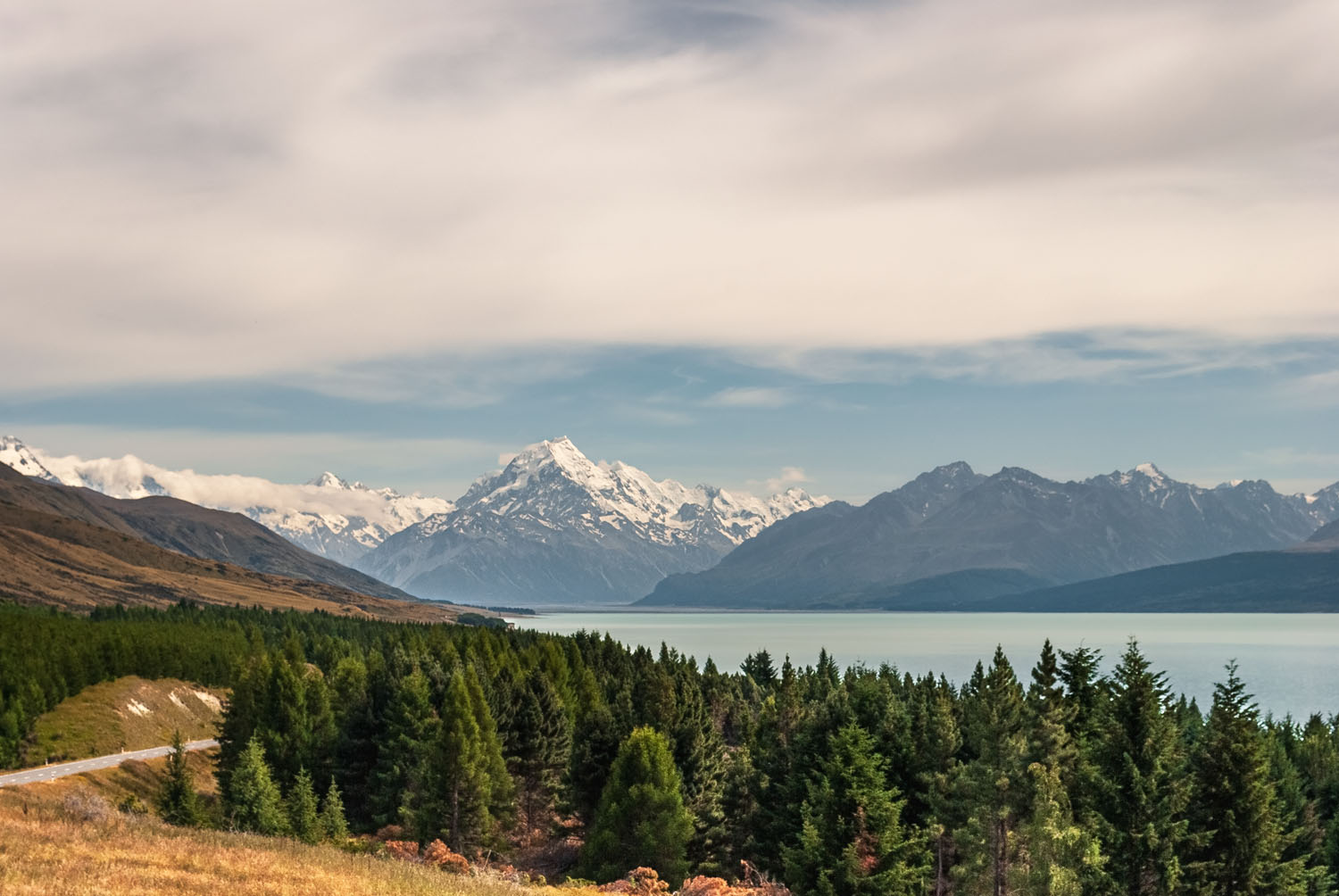 Lake Pukaki
Heading through the southern regions of New Zealand, the view of shimmering Lake Pukaki in Mackenzie county is quite a sight to behold. Possessing an ethereal quality, the peculiar bright turquoise colour of this alpine lake is the result of finely ground rock particles from glaciers, known as 'glacial flour'.
'Pukaki' translates to 'source of stream' from Maori and along with its neighbours, Tekapo and Ohau formed when the terminal moraines of receding glaciers blocked their respective valleys forming moraine-dammed lakes.
The Serenity of Lake Pukaki
At 9.5 km's long and 8 wide it's a sizeable body of water but at the same time an extremely placid one. It's a tranquil part of the country and aside from the odd nearby farmstead, there's hardly any human habitation here. Nature lovers will be grinning from ear to ear discovering several secluded wild camping spots on its eastern shores.
Settle in and crack open a bevvy or three for some magnificent eye candy. No phone staring here, only mountain and star gazing. New Zealand's highest peak, Aoraki (Mount Cook) will demand your attention, protruding majestically from the north end of the lake, serving up a superb vista.
Photographing Lake Pukaki
For some serious chillaxing make camp on its eastern shores and get on with some proper ND filtration. This is a landscape of complete stillness with a 3,724-metre snow-capped peak for a backdrop. Up above is a canvas of clear, crisp skies. Astrophotography heaven for sure.
Anyone wanting a high vantage point will need to head over to the lakes western shores and do a little bit of hiking. The western shore is also the route to the Aoraki Mount Cook National Park.
Boring factual stuff about Lake Pukaki
The shimmering turquoise waters of Lake Pukaki and the soaring snow-covered peaks of Aoraki Mt Cook were the backdrops for 'Lake Town' in Peter Jacksons trilogy The Hobbit.
Lake Pukaki is now being harnessed to play its part in the Waitaki hydroelectric scheme.
From 1934 until 1967 the five-pound note of New Zealand bore a picture of a small island on Lake Pukaki. Nicknamed 'five-pound note island', the subsequent raising of water levels meant Te Kohai Island was no more
Have a wemooch elsewhere...
Inspired?
Thinking about a wee mooch into the blue?
You'll need a few things to come together for it all to work out. There's some useful stuff to be clicked and pressed below.